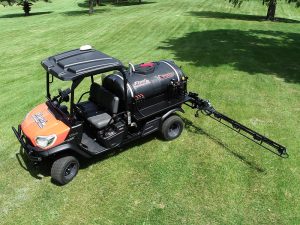 Now the accuracy and performance of the Ninja GPS spray control system is matched with the power and reliability of the Kubota RTV-X1140 utility vehicle. This is a turn-key sprayer that is smooth, nimble and full of features.
Interested in a Demo? 
Click here to schedule a demo on your own turf!
---
Vehicle Features
Kubota diesel engine
Dual range hydrostatic transmission
Independent four wheel suspension
Four wheel drive with rear differential lock
Four post ROPS with sun shade
Sprayer Features
200 gallon elliptical tank with drain sump
20' Electric X-fold boom
Stainless steel hydraulic centrifugal pump
15 gallon tank rinse system
Titan hose reel with 100′ of 5/8′ hose and gun
Blue LED spray lighting system
Control Features
Water tight Ninja GPS spray control monitor
Novatel Smart7 receiver with Terrastar error correction
Individual nozzle control
Dual nozzles at each nozzle position
Automatic rate control
Camera for rear nozzle viewing
Additional Options
Sonic boom leveling
GPS auto-steer
10″ nozzle spacing